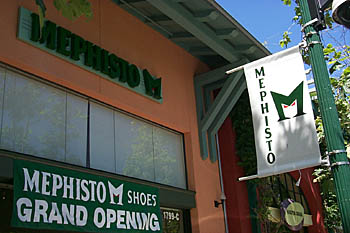 At Mephisto, our goal is to provide you with the footwear you need to make your feet feel and look great, and to give you a fun shoe shopping experience!

Mephisto in Berkeley, California was opened in May, 2004 by Safet Halilovic and his wife, Inge. Safet uses his many years of experience in the footwear industry to make sure that customers get the best selection of fashion and comfort styles. He personally selects and inspects each style of shoe to ensure that it conforms to his standards for quality, comfort, and fashion.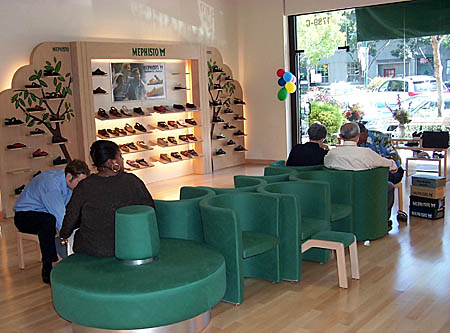 The staff at Mephisto are professional shoe fitters. We help you choose the right shoes for your feet. Our training in foot anatomy and thorough knowledge of shoes allow us to make intelligent suggestions about which shoes will be the most comfortable for you. Because every foot is unique, we measure both your feet and bring you selections that are the correct size for your feet. We have such a large range of sizes that we can fit nearly every foot. After you select your shoes, we'll teach you how to care for them.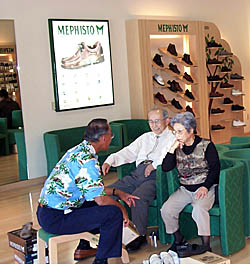 We're doctor recommended! Podiatrists and other doctors are happy to send their patients with foot problems that can be alleviated with properly fitted shoes to Mephisto because they know we'll take good care of your feet.

Mephisto shoes have been awarded the Seal of Acceptance by the American Podiatric Medical Association. The combination of all these elements makes Mephisto "The World's Finest Walking Shoes".
HOME + STORE

|

LOCATION

|

ABOUT US

|

SHOW ORDER

|

ABOUT MEPHISTO

|

CONTACT US
Berkeley Mephisto, 1799-C Fourth Street, Berkeley, California, 94710
Store hours:

Mon - Sun 10:00 to 6:00
Phone 510·558·7343

Fax 510·558·7344

Email info@berkeleymephisto.com
© Copyright 2015 Inge's, Inc. - All Rights Reserved